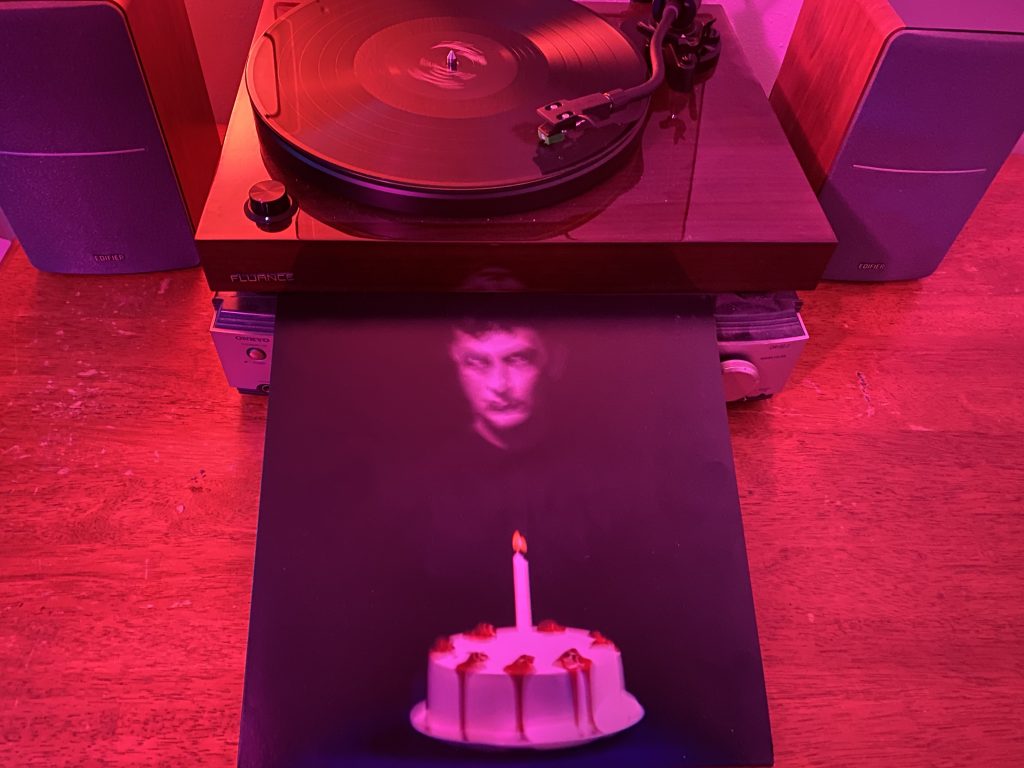 It's been a couple of years since I posted a list of my fave albums, but I made one this year. Here it is, my Top 25 Fave Albums of 2019 (notes at the end):
25. Pixies. Beneath the Eyrie
Does it rank among their best work? Not at all, but for a Frank Black Pixies cover band, it's not bad.
Rola that makes you want to reach first for a Gun Club album, then pull out Pixies Bossa Nova album instead: "Long Rider."
24. The Raconteurs. Help Us Stranger
Were you fans of 70's power pop like Cheap Trick? Here's one for you.
Rola to blast out your car (preferably a Chevette) while racing down the highway at sunset: "Sunday Driver."
23. Jenny Lewis. Hollywood Lawn.
The first two albums on this list makes it sound like I was in a serious 70's retro vibe in 2019, and this album continues that feeling.
Rola to remember your wasted youth: "Wasted Youth"
22. Deerhunter. Why Hasn't Everything Disappeared?
An album for laying out on a blanket with friends on a midsummer's eve, and being all existential and shit.
Rola for walking around a quiet town while wearing headphones: "Futurism."
21. Institute. Readjusting the Locks
A punk band from Austin doing that punk thing, and doing it really, really, well.
A rola for jumping around punching the sky: "Anxiety."
20. Fews. Into Red
I first heard this band when they opened for Pixies in Cologne in 2016, and I got a hold of their debut album, Means, soon after. Their second release, Into Red, came out as I was getting ready for my spring tour of readings and talks and served as great companion as I moved from airport to city to club to café to airport.
Rola for heading out into the evening to meet friends: "More than Ever."
19. Wilco. Ode to Joy
I first caught Wilco on the A Ghost is Born tour, when they played Primavera Sound in Barcelona. I was wandering off to catch another band (I can't remember who) when I stopped to catch a bit of Wilco. I stayed. And since then, they're always somewhere near the top of my playlists.
Rola to reflect on while writing a story: "Love is Everywhere (Beware)"
18. Omar Souleyman. Shlon
After more than 500 releases, here is the Syrian wedding singer's latest. 6 love songs sung in that Omar Souleyman style.
Rola for dancing under a starry night: "Layle"
17. Purple Mountains. Purple Mountains
10 songs of heartbreak and loss by poet David Berman.
Rola for reflecting on a life: "All My Happiness is Gone."
16. Lin Pesto. Son
A friend who I always go to for recommendations of new Turkish music recommended last year that I check out Lin Pesto. Her melancholic singing over lazy electronics grabs me, in particular, the rola "Bir Düşün." Son is her latest, is it an album? An ep? Like the singer herself, a young woman from Ankara who wears a mask, the collection of songs and the ambiente they create is mysterious and perfect for late nights.
Rola for after the party is over and there's cleaning to be done but you don't want to do it, you just want to continue floating on the vibes from the party: "Maazallah (YGA)"
15. Vampire Weekend. Father of the Bride
Yeah, it kinda sort of falls into yacht rock, and yeah at times it makes me reach for their first album instead, but there were moments this year when I found myself putting this album and going for a walk with my headphones on.
Rola for sitting on the beach and staring out to sea: "This LIfe"
14. Altin Gün. Gece
Here's a Dutch band —with Turkish singers— inspired by 70's Turkish psych rock.
Rola for dancing in a borderline club beneath a mirrorball: "Supurgesi Yoncadan"
13. The New Pornographers. In the Morse Code of Brake Lights
Another fun, catchy album from this Canadian band.
Rola for singing along while driving through town: "Falling Down the Stairs of Your Smile."
12. Nick Cave and the Bad Seeds. Ghosteen
Continuing in the melancholic tradition of his last few albums, in particular the devastating Skeleton Tree, the rolas move through grief and loss in a search for peace that often lies just out of reach.
Rola for sitting in a dark room: "Waiting for You."
11. Echo Collective. Jóhann Jóhannsson: 12 Conversations with Thilo Heinzmann
Of the contemporary composers, Jóhann Jóhannsson, is one of my faves (Englabörn is incredible). Here Echo Collective records his compositions based on the works of the painter Thilo Heinzmann. Beautiful.
Rola for wearing headphones: all of them. Ok, if you have to just listen to one, go with "Lacrimosa."
10. Sleater-Kinney. The Center Won't Hold
I'll admit, I was super excited when I heard they were working with St. Vincent on this one, I was intrigued by the possibilities of this blending: St Vincent's schizoid guitar electronics (if you don't think she can rock, check out "Krokodil" or her cover of Big Black's "Kerosene") with Sleater-Kinney's brilliant sonic sound and Riot Grrrrl philosophy. At moments it doesn't disappoint, though I miss the Sleater-Kinney of "One More Hour," and there are moments when I feel like it's either St. Vincent leading a commendable Sleater-Kinney cover band or Sleater-Kinney doing a decent St. Vincent album. In any case, here it is, #10 on my list.
Rola that starts off sounding like Strange Mercy/St Vincent-era St Vincent and then sounds like No Cities to Love era Sleater-Kinney: "The Center Won't Hold."
9. U-Bahn. U-Bahn
Here's how I imagine this young band of Australians came about. One says to another: Hey! Let's start a band. The other: A band? One: Yes! A band. A band that will weird out our friends and attract the attention of people who love mid-70's avant-punk. The other: Sounds cool, we could be influenced by my record collection. One: Cool. What does your collection have? Other: Let's see, there's only one band. Devo. The first four albums, Are We Not Men? Duty Now for the Future, Freedom of Choice, and New Traditionalists. One: YES! Let's do this! And that is how I imagine that U-Bahn this young Australian band heavily influenced by mid-70's avant-punk (in particular, Devo) came about. And me being a big Devo fan, I'm now a U-Bahn fan too (as is, apparently, Henry Rollins).
Rola for wondering what the austral version of Devo's "It's Not Right" would sound like played by a group of young Australians: "Turbulent Love"
8. FKA Twigs. Magdalene
A powerful album that works through pain and healing, FKA Twigs offers another incredible record.
Rola that could be paired with Hounds of Love era Kate Bush: "Sad Day"
7. Taylor Swift. Lover
Yeah, I've been a fan of Taylor Swift for a long time, get over it. While I find some of the earlier princess-y stuff a bit much, I like her pop sensibility and her songcraft. While not as great as the tandem Red/1989, when Lover is good, it is very good.
Rola for driving around on a lazy afternoon: "Lover."
6. Lana del Rey. Norman Fucking Rockwell
Yes, this album topped quite a few Best Of lists, and deservedly so, but the next five albums I listened to a lot more in this year that is coming to a close. Norman Fracking Rockwell dropped a week after Taylor Swift's Lover and for me those two are linked (maybe because I feel that hidden in the pop sheen of some of Swift's songs are the same themes that Lana Del Rey has built her career on) and it was tough for me to decide which one I liked more. Given my tendency towards more "loser's blues" (of the early Cat Power type, Elliott Smith, or Wilco) I went with Norman Fucking Rockwell's vision of a lost America that even then might just be an illusion.
Rola for living in dive bars and passing out in patched vinyl booths beneath the red hum of an almost broken neon sign advertising a brand of beer that only exists in old movies: "The Greatest."
5. The National. I am Easy to Find
While this, their 8th album, did not immediately grab me like the trio of Boxer/High Violet/Trouble Will Find Me, it grew on me over the year. Seeing them live in September also helped me gain an added appreciation for this album of songs about aching, loss, sorrow, and renewal (a theme in my fave albums in general).
Rola for remembering that one relationship that ended before it should have, but ended just in time: "Light Years."
4. Angel Olsen. All Mirrors
From her first folky —voice and guitar— recordings to this, her most recent album, Angel Olsen has expanded her sonic palette to include orchestral elements to accompany her powerful —at times a whisper, at times a howl, at times yearning— voice. The songs are aching, melancholic, cathartic, and beautiful, at times all at the same time.
Rola for thinking that it could be in a film by David Lynch: "All Mirrors."
3. Thom Yorke. ANIMA
While Radiohead records always grab me immediately, Thom Yorke's side projects almost never do (save for his soundtrack to Suspiria which I liked so much I bought it on vinyl). Rather, they insert themselves into my life, the rolas crawling into my dreams, burrowing into my subconscious in a similar way that certain images from David Lynch projects have done. Such is the case with ANIMA, an album about uneasiness and feeling lost in place, an album that might be described as Lynchian.
Rola for counting down the seconds as you descend into sleep filled with strange, random images: "Not the News."
2. She Past Away. Disko Anksiyete
The title means "Disco Anxiety" and this album of Turkish post-punk/coldwave/goth is comprised of 10 rolas (one sung in Spanish rather than their usual Turkish) about the usual themes found in this genre: darkness, anxiety, despair: but you can dance to it. 21 year old me would have had this tape on repeat as he walked the streets with his headphones clamped on. 53 year old me bought the album and often sat in his dark room writing a bunch of short stories.
Rola for reminding you that darkness and loss follows you: "La Maldad."

1. Jakuzi. Hata Payı
A friend turned me on to Jakuzi when I was living in Turkey. Their almost early Gary Numan/Human League sound on their first album, Fantezi Müzik, grabbed me, and the night we were going to head out to see them play live in Ankara, I got run over by a car. Their most recent album, Hata Payı, grabbed me from the first single I heard, "Yangın." And as I traveled around Poland, Spain, and Turkey in May, the album was a constant on my trip soundtrack, and after returning, it has continued to be a constant. Hopefully I'll get to see them live.
Rola for sitting in a cold office at the end of the year remembering a relationship that suddenly exploded: "Sana Göre Bir Şey Yok"
NOTES
There was a lot of music released in 2019, and since I'm not a professional critic, I didn't get to hear a lot of it. And so, my lists will always be more subjective than others. Plus they will also reflect my listening habits. Also, one of the big problems about releasing "best of" lists at the end of the year is that often the lists are made before the end of the year, there is still music being released. Finally, sometimes records that I grow to love come to me late in the year and do not have time to sink into my soundtrack. Maybe in a few months I'll revisit this list and see if I still feel the same, given the other albums that I've recently started to listen to. That being said, here are a few other albums that could have been on this list or that I need to listen to more:
Cat Le Bon, Reward.
Big Thief, Two Hands.
Cherry Glazerr, Stuffed and Ready.
Rocketship, Thanks to You.
Andrew Bird, My Finest Work Yet.
La Santa Cecilia, La Santa Cecilia.
Nilüfer Yanya, Miss Universe.